Espanola High School Library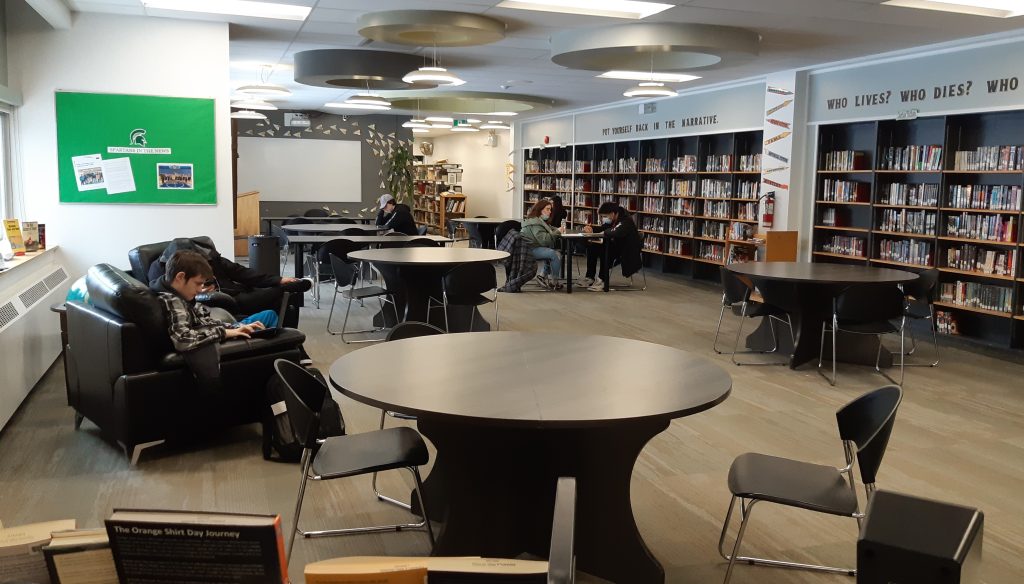 Find a spot at a table to catch up with reading, school work and friends or log on to a computer to research your latest project. In the library, students may enjoy a quiet working atmosphere while accessing the numerous resources available. In addition to a large collection of fiction and nonfiction books, students have access to magazines, chromebooks, online databases, and a printer. The library technician is available for any assistance that may be necessary.
Staff
Library Technician:  Mrs. Tanya Stewart
Hours of Operation
Monday to Friday
8:00 a.m. – 3:00 p.m.
Closed daily from 12:05 – 12:35 p.m.
Circulation
Books are signed out for 2 weeks and can be renewed if no one is waiting for them.  Students who lose or damage their books will be asked to pay the replacement cost.  All fees are to be paid prior to the end of each semester.
Chromebooks

We have Chromebooks to loan for classwork.  We also have a dedicated Wi-Fi connection to ensure you always have access to the resources you need.  Students are expected to follow the internet policy of the school.
Printing
Printing for school assignments is free.  Please ask Mrs. Stewart for assistance.
Databases
Insignia is our new library catalogue, use it to search or reserve library books.  Don't forget to download the app for easier, everyday access.
Gale databases offer online resources such as magazines, newspapers, academic journals, and more.  You'll need a password when using it from home – ask Mrs. Stewart.
This bilingual encyclopedia charts Canada's unique events, culture, history and landscape.
More resources are available with the Rainbow Schools Virtual Library.